ALAM BAHASA
BILDUNGSURLAUB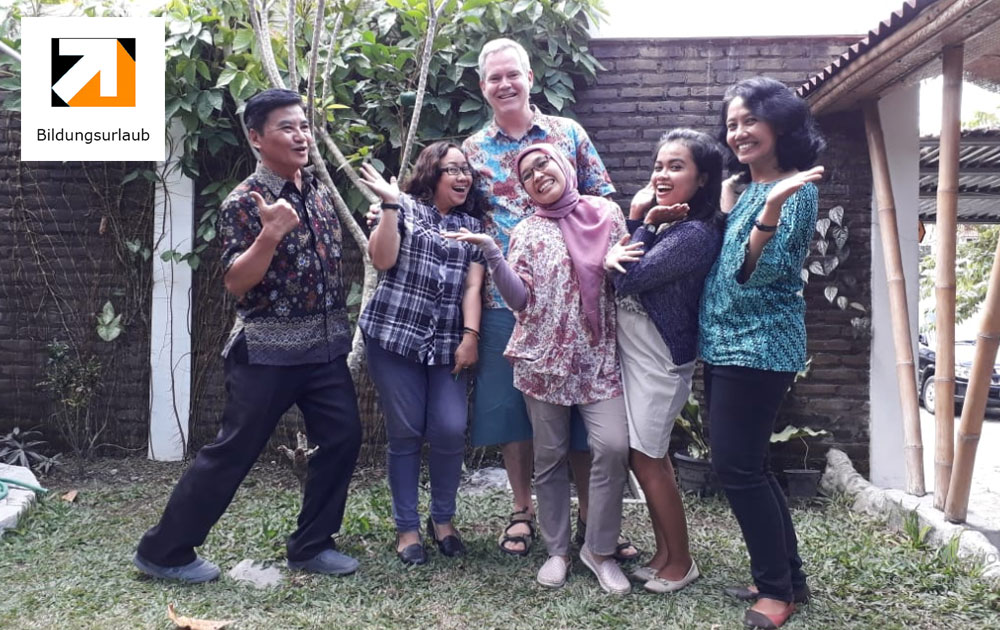 Description:
Alam Bahasa has been registered at Hamburg State as a Bildungsurlaub provider for Indonesian language course since 2008. Alam Bahasa is also registered for Bildunsurlaub for Berlin and Lower Saxony States. Make your holidays more fruitful and beneficial by taking a 5-10-day of Bildungsurlaub Indonesian language course in Alam Bahasa.
Cost:
COST & PAYMENT
- registration fee Rp175,000
number of students

training cost per hour

2022

2023

1

Rp 150,000

Rp 165,000

2

Rp 210,000

Rp 250,000


3

Rp 270,000

Rp 300,000

4

Rp 320,000

Rp 360,000

5

Rp 375,000

Rp 425,000
Extra cost of Rp 15,000 per hour applies to classes in non-regular hours.
Regular hours are 8 am-5 pm (Mondays to Fridays) and 8 am – 3 pm (Saturdays)
No classes on Sundays and public holidays.
Textbook (for registration of ≥30 hours), handouts, course kits, and coffee break are included.
Accommodation cost is not included.
Additional cost for cultural courses applies to students taking less than 30-hour course or including more than 1 cultural course per 30 hours.
Additional cost for field trips applies to students taking less than 60 hour course or taking extra field trips.
Cultural courses and Field Trips are optional. When taken, they are done within the learning hours, not as bonus or additional hours.
In every 60 hours field trip to Borobudur Temple/Prambanan Temple/Merapi Lava tour can only be combined with one of the following: cooking course/batik course/field trip to Royal Palace/field trip to Imogiri Royal Cemetery.
PAYMENT
a. cash or credit card on the first day of training
b. advanced payment through bank transfer or Paypal.
- bank account
Account number 0389028558 (Rupiah), beneficiary name: Alam Bahasa
Account number 0030448571 (US$), beneficiary name: Iriany Ali/Y. Cahyono
Bank BNI Adisucipto, Jl. Laksda Adisucipto 137, Yogyakarta, Indonesia
- Paypal
learn@alambahasa.com
- Payment by bank transfer and Paypal from outside Indonesia is subject to additional charge of Rp300,000.

- Transfer fee is paid by the learner.